Welcome to:
Cache River Basin Winery, Wineaux's Restaurant , and Boondocks Cabins
         315 Forman Lane, Belknap, Illinois   62908
Situated in the rolling hills of beautiful Southern Illinois, Cache River Basin Vineyard & Winery provides for its patrons a selection of outstanding Southern Illinois fine wines, produced on site, a fine dining experience in Wineaux's Restaurant and clean, comfortable cabins (Boondocks Cabins) for that week-end get-away.
Wineaux's had a special event March 16th:
A young Paducah couple, Chasity Albright and Joshua Poe, flew in via a SAS helicopter for dinner. SAS took advantage of our heliport. (Hint: you can too!)
…………………………………….

……………………………………
Views FROM the heliport toward Wineaux's  and TO the heliport from Wineux's:
……………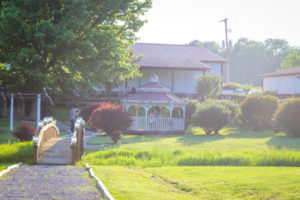 …….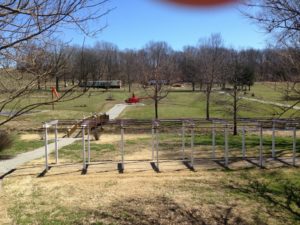 ……………
Exciting NEWS for 2019: 
Jack is working on adding a Walking Trail to be completed in May, with markers identifying the route.The Zip Line will be ready in early summer.
Check out Our DRONE TOUR on YouTube:


About CRB
On December 15, 2001, Jack Dunker opened the doors of Cache River Basin Vineyard & Winery.  At that time, he had a vision of what this beautiful countryside in Johnson County could be.  Along with the winery, that vision included a restaurant where his customers could sit and enjoy great food, great wine, great service and a great view of the amazing countryside.  With the opening of Wineaux's Restaurant, part two of the vision came to life.  Part three, cabins for his guests, has one cabin completed and ready for occupancy with a second cabin under construction.  
~~~~~~~~~~~~~~~~~~~~~~~~~~~~~~~~~~~~~~~~~~~~~~~~~~~~~~~~~~~~~~~
Information from Jack:
A lot of people have asked about how I choose to name my wines, wine glasses, cabins, the pond, the winery, and vineyard. These are my thoughts:
Naming my wines and wine glasses –
~~~ In naming my wines, I tried to help people become aware of the area and acknowledge our location:
~ Swamp Water – Southern Illinois has many swamps and I want to give credit for them.
~ Copperhead Red – named after one of my local residents.
~ Expedition Red – named after the Lewis & Clark Expedition – to honor a couple of great men.
~ Star Night Bright – the stars shine brightly here at night. No man-made lights to compete.
~ Revolutionary Red – named for George Rogers Clark, another great American
~ Code Red – named after a great movie I watched.
~~~  Naming my wine glasses –
~ One features an actual picture of the Cyprus Tree growing in the middle of Cache River. I honor that large tree that is over 1,000 years old.
~ One features Wineaux's Restaurant – our symbol for Wineaux's.
Our cabin is named "Boondocks" due to the fact that we are out in the boondocks.
Wetlands Pond – Designed especially for animals plus Egrets and Herons. A very shallow pond, maybe 1/4 acre large, to allow these birds to fish and other animals to drink, etc. The whole area (5 acres) is dedicated to wildlife. We have quite a few animals here.
~ There's an island in the pond for geese – they spend the spring and summer here raising their young (goslings). The parents will bring them down to the area in front of the restaurant for feeding and whatever.  When the goslings reach adulthood, they take off and don't come back until the next spring.
~ Turkeys, from time to time, will come down and walk around the grape vines (where people can see them.)
~ Deer show up in the early evening.
~ Owls are evening and nighttime visitors – especially around the cabin which is in the woods.
~ Other Birds – an abundant group of them including: Pileated Woodpeckers, Red Tail Hawks, Belted Kingfishers, even Eagles.
Name of the Winery
Cache River Basin Vineyard & Winery. Folklore has it that Father Mermet, a French Priest, was crossing over this small river on a natural bridge made of logs and stuff. He leaned over and placed his hand to his ear and said, "This river is Cache'."- French word for storage or hidden.
"We won't put any wine on our shelves unless we think it's quality drinking."